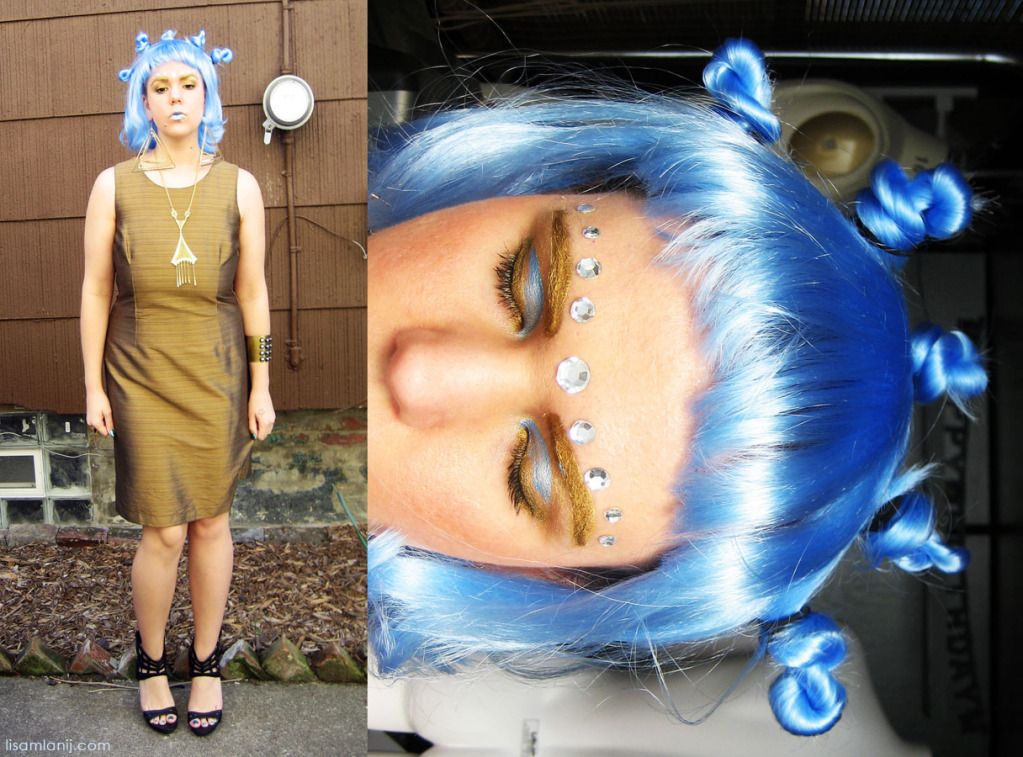 My inspiration for this outfit was the Cinna's nail tech prep team member, Venia. Cinna and his prep team trio are my favorite characters in the Hunger Games series. Their over the top fashions and Capitol attitudes I can relate to being a boldly dressed fashion designer myself.
Venia, being my favorite, is described in the book as tall, androgynous, having blue hair styled in spikes with gold tattooed eyebrows. Unfortunately I am not tall or androgynous, but for the sake of this contest bear with me ;] Also if I had my spiky blue hair still I would have made my hair it into real spikes, but the wig had to suffice.
Gold and pale blue were my color scheme for Venia's outfit. I imagine she likes over the top accessories, like large triangle earrings and necklaces to enhance her already sharp style. I wanted originally to have a pale blue dress or gold maxi skirt but couldn't find any. Instead I used this gold silk dupioni dress. I took artistic liberty to interpret her spikes as cone buns and give her diamond implants above her eyebrows, which gives this look an Art Deco Molly Soda crossed with Asuras (Hindu deities) appearance. (HAHA). The silhouette of the outfit and hair are reminiscent of Maria, the android automaton in Fritz Lang's 1927 "Metropolis".
I do hope you enjoy my interpretation of Venia's look.
Gold Silk Dupioni Sheath Dress, clothing swap
Art Deco Triangle Necklace,thrifted
Triple Triangle Exaggerated Earings, Rue 21
Cyber Grid Heels, Journeys.com
Gold Spiked Cuff, Macy's
My inspiration for Venia - Photo by Alis Pelleschi
Though if I truly had my casting choice for Venia, my favorite Hunger Games character, I imagine Venia would look exactly like Japanese model,
Mademoiselle Yulia
!!!